M-73 (NGC 6994), M-40, M-91 and M-102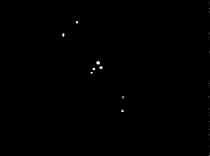 M-73 is not one of the most spectacular clusters for the six-inch scope. Indeed, it is only an accidental grouping of four stars in Aquarius. This object belongs to a class called "Doubtful Listings", and three other Messier objects belong to this class.
M-40 is only a double star. M-102 is probably a repetition of M-101. M-91 is simply non-existent. (My own suggestion is that it may have been, ironically, a comet.) In any case it is probably unwise to spend a great deal of time admiring these objects.
[NOTE: The Students for the Exploration and Development of Space (SEDS) Messier Database lists M-91 as NGC 4548, a galaxy in Coma Berenices. Apparently, there is no clear consensus as to the identity of M-91.]
| | |
| --- | --- |
| NGC: | 6994 |
| OTHER NAMES: | M-73 |
| CLASS: | asterism |
| NUMBER OF STARS: | 4 |
| POSITION: | 20h 56m -12d 50' |
| CONSTELLATION: | Aquarius |
| DATE OF SKETCH: | 10/04/75 |
| MAGNIFICATION USED: | 70x, 140x |